For many families, Halloween marks the start of the holiday season. Although October 31st is synonymous with candy and other sweet treats, you can still enjoy the nostalgia of your favorite classic candies and seasonal treats while remaining mindful of your lifestyle. Here are seven ways to put a healthy spin on classic Halloween candy treats.
#1 Create Your Own Candy Corn
Nothing says Halloween like a bag of candy corn. The white, orange and brown colored candies scream Halloween. If you want to enjoy this classic Halloween treat while still being mindful of your better-for-you lifestyle and eating habits, make your own candy corn instead. This vegan, plant-based candy corn recipe uses fruit juice, vegetable juice and natural sweeteners to recreate this iconic Halloween candy.  
#2 Swap Candied Apples for Chocolate Apples
According to Olivia Wagner, Integrative Registered Dietitian Nutritionist, apples are rich in both soluble and prebiotic fiber, making them a superfood for maintaining a healthy digestive tract and supporting a strong immune system. Although candied apples are a fall favorite for many, skip dipping your caramel apples in melted caramel that is laden with refined sugars and artificial sweeteners and instead dunk them in melted dark chocolate. Wagner says, "Not only does 1 oz of 70% dark chocolate have less than 3x the sugar of 1 oz. of caramel sauce, but both apple skins and dark chocolate contain contain polyphenolic compounds, powerful antioxidants that support heart health and fight inflammation in the body." If you're hosting a Halloween party, set up a build your own chocolate apple bar so guests can make their own chocolate dipped apples. Include flavorful toppings like crushed nuts, coconut, crunchy cookie crumbs, sprinkles and other fall favorites.
#3 Choose a Better Box of Cookies

Halloween cookies are a fun and festive treat to share with family and friends, so head to the grocery store and pick up a box of crunchy cookies. Give your cookies a Halloween twist with some haunting Halloween designs. Grab your favorite vanilla frosting and spoon it into an icing bag, then get creative. Whether you choose spiderwebs, ghosts or skeletons, your Halloween cookies are sure to be "boo-tiful."  
#4 Trade Caramel Corn for Maple Corn
Enjoying a bowl of caramel corn is a part of any good Halloween party, but unfortunately the caramel is usually made with corn syrup and lots of refined sugar. Trade traditional caramel corn for a batch of homemade maple corn instead. Simply pop your popcorn kernels in a tablespoon of coconut oil then add a drizzle (or two) of maple syrup. If you prefer a sweet and salty snack, sprinkle in a pinch of Pink Himalayan Salt so it sticks to the maple syrup.
#5 Prepare Your Own Peanut Butter Cups
Chocolate peanut butter cups are a favorite Halloween treat for many, so why not recreate this classic candy with your own recipe? If you aren't a fan of peanut butter, use almond butter, cashew butter or pumpkin seed butter.
#6 Bake Up Some Scary Sweet Treats
If chocolate is one of your favorite Halloween treats, bake up a batch of Candy Halloween Brownie Bars or try these Peanut Butter Stuffed Chocolate Cupcakes. Looking for more Halloween inspiration? Check out these "nut so scary" Halloween treats.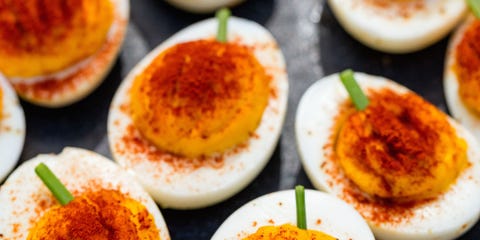 #7  Chanel the Savory
If you aren't such a sweet person or are trying to reduce sugar in your diet, celebrate Halloween with a few fabulous savory options! Try our  pumpkin hummus  with Sprouted Seed Crackers, a trail mix with spicy roasted pumpkin seeds, sea salt crackers, and popcorn, or for a party, top sprouted seed crackers with spicy deviled egg salad, adding a sprig of chive to look like a pumpkin stem!
Bonus Tip:

Looking to create a food-dye free orange frosting for all of your Halloween decorating? Try using goji berries, which according to Wagner, are a great source of vitamin C and are rich in antioxidants.
Feel your best this Halloween so you can shine your brightest for the upcoming holiday season by enjoying these seven classic Halloween treats with a better-for-you twist. Find the recipe here.

Tag us @SimpleMills so we can see how you enjoy your favorite classic Halloween treats.